Classical Jazz
Sally-Anne Brown - Cello
Jessica Alloway - Violin
Mark Dennison - Sax/flute clarinet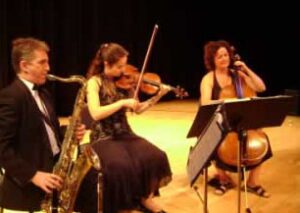 Classical Jazz is one of the hardest working ensembles around town. Its strength lies in the variety of material from classical favourites to latin and jazz. Weddings are a specialty – Classical Jazz will play all requests for entrance, signing and exit music. To add a touch of class to any gathering, it's hard to go past Classical Jazz.
Other requirements: 3 chairs with no arms
Comments: A sound system may be required in very large spaces or when the crowd numbers over 100.
Sample Repertoire:
Quando Quando (Renis), Ain't Misbehavin' (Fats Waller),
Take Five (Brubeck), Summertime (Gershwin),
Leibesfreud (Kreisler), Have I Told you Lately (Van Morrison),
Romance (Shostakovitch), Czardis (Monti),
Ave Maria (Schubert), Air on a G String (Bach)...