Tuxedo Ritz
Neville Grenfell - Trumpet
Ron Samsom - Drums
Stephen Small - Piano
Tom Dennison - Bass
Mark Dennison - Sax/flute/ clarinet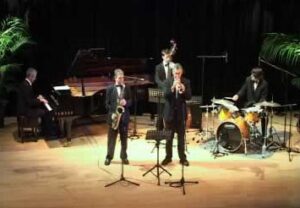 Tuxedo Ritz is a jazz band capable of evoking the sound of traditional jazz and Dixieland, through the big band era to the 'Birth of the Cool' modal sounds of Miles Davis. With accurate tempos for all dances, Tuxedo Ritz is popular with dancers or as background music.
Sample Repertoire:
Ain't Misbehavin, Anniversary Waltz,
Darn that Dream, Blue Moon,
Caravan, I Got Rhythm,
Mame, I'm in the Mood for Love,
Putting on the Ritz, Tea for Two,
Moon River, The Shadow of your Smile...