The Nylon Sax Orchestra (NSO)
Bruce Kerr - Guitar
Mark Dennison - Flute/sax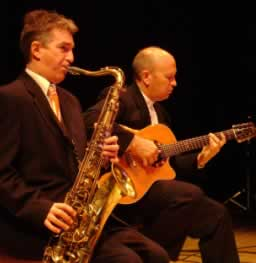 Bruce and Mark have been the background/dinner music at hundreds of events at the Art Gallery, Museum, Town Hall and all major hotels. Their easy-listening style features jazz, bluegrass, pop classics and favourites.
The NSO is also fully portable, so can 'stroll' around between tables, or move quickly to another room.
Sample Repertoire:
Imagine, Taking a Chance on Love,
Windy, Polka Dots and Moonbeams,
Mombassa, Just the Way You Are,
This Nearly was Mine, It's Gonna Work Out Fine,
Guantanemera, I Knew it Was You,
Coming Home, Light my Fire...