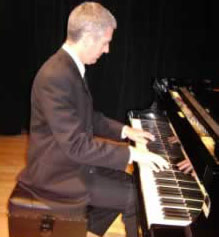 After 10 years in London, Stephen has returned to New Zealand to lecture at the University of Auckland and perform.
He is comfortable with any style and composer, and happy to play requests.
Steve can also be accompanied by another instrumentalist, as on the video. Violin – Jess Hindin, Sax/clarinet/flute – Mark Dennison.
An electric piano can be supplied if required.
Sample Repertoire:
Bach, Bacharach, Frank Sinatra,
Beethoven, Duke Ellington, Elton John,
Chopin, Miles Davis, Nat King Cole,
Debussy, Louis Armstrong, Tony Bennett...